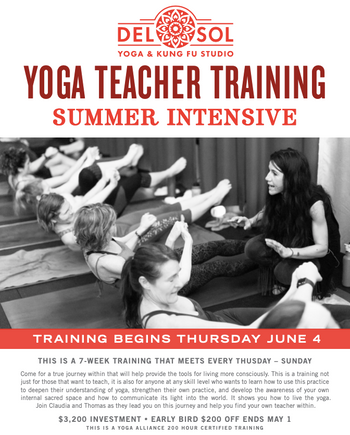 200 Hour Yoga Teacher Training Intensive - Summer 2020
Join Claudia and Thomas for their yoga Summer Yoga Teacher Training Intensive. June 18- August 2nd, 2020
For 7 weeks, and dive into some deep work.
There are 200 contact hours and 20 hours of home work and readings.
The training is divided into five modules that explore Ashtanga Vinyasa, Asana teaching (in its various formats of Hot Vinyasa, Slowburn, Yin, and Yinyasa), Assists, Anatomy, and Meditation.
You will be able to dive deep into the understanding and goal of yoga. You will come out of the training with greater purpose and with the tools necessary to create a sacred and healing space for yourself and others.
This is a Yoga Alliance Certified 200 Yoga Teacher Training
Teacher training tuition,
Training Investment: $3200
Early Bird Discount of $200 if you Register by May 18, 2020