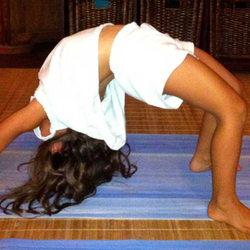 Kid's Yoga
Kid's Yoga Schedule:
Saturday Two Classes Available- 9am, 60 min classes
Del Sol Yoga for Children is designed to explore and learn in a fun, safe and playful way. When we practice the physical postures or exercises (called asanas), we learn how to move our bodies more freely and with greater ease and awareness. Additionally, yoga grows awareness and ability in breathing, self-care (compassion) and mindfulness.
Ages 3-5 will explore yoga postures (asana) in a safe and nurturing environment. They will experience connecting their individual bodies, minds and breath through play, interactive stories and music grounded in the principles of yoga. The class pace is designed to flow to accommodate the needs of a developing preschooler.
Ages 6 and up will begin to build short sequences of postures appropriate for their developmental ability. Each yoga class will incorporate experiential learning about skills such as balance, energy, mindfulness and self-care. Through cooperative activities, such as partner poses, children experience communicating and working together to benefit a larger community.