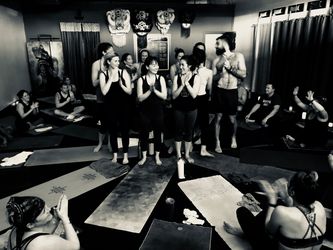 Hot Vinyasa
Hot Vinyasa Schedule:
Sunday- 11:00am, 75 min class
Monday/ Wednesday/ Friday: Mornings-8:45am, 60 min class
Monday & Wednesday: Evenings - 5:45pm, 60 min class
Friday, Happy Hour- 4:30pm, 60 min class
Saturday- 9:00am, 60 min class
Hot Vinyasa is a sweaty, hot, yoga class that continuously moves with a rapid rhythmic breath. Set in a toasty, fun environment with upbeat music that might even having you singing along. You will be guided through a set of flowing postures and then let you flow on your own!
We recommend you bring a mat, towel, and water.