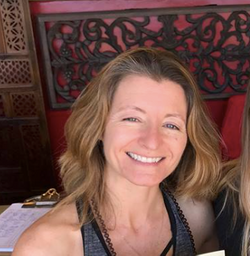 Zita Healy
Yoga Teacher, 200 Hour RYT
Zita had limited exposure to the practice of yoga when she first attended "Yoga Temple" at Del Sol over 3.5 years ago. From that moment, she was "hooked" on the style of yoga offered at Del Sol, in particular Hot Vinyasa and Ashtanga Americano.
Having trained as a dancer in her youth, Zita initially embraced yoga for the physical and mental challenges presented by each practice at Del Sol. This, coupled with the "moving meditation" that can be achieved by using the breath to connect body and mind, inspired her to develop a daily practice. In Jan 2019 she completed her 200 Hour Yoga Teacher Training Program at Del Sol.
She is honored to be able to share her love of the practice of Ashtanga Americano and invites yogis (of all levels) to experience the sense of community and coherence generated during each practice – a practice "of the self, through the self, to the self".