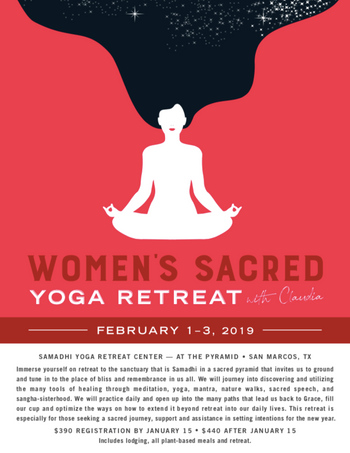 Women's Sacred Yoga Retreat with Claudia
Immerse yourself on retreat to the sanctuary that is Samadhi in a sacred pyramid that invites us to ground and tune in to the place of bliss and remembrance in us all. We will journey into discovering and utilizing the many tools of healing through meditation, yoga, mantra, nature walks, sacred speech, and sangha-sisterhood. We will practice daily and open up into the many paths that lead us back to Grace, fill our cup and optimize the ways on how to extend it beyond retreat into our daily lives. This retreat is especially for those seeking a sacred journey, support and assistance in setting intentions for the new year.
$390 REGISTRATION BY JANUARY 15 • $440 AFTER JANUARY 15
Includes lodging, all plant-based meals and retreat.