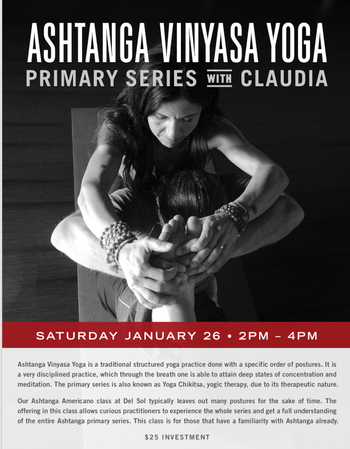 Ashtanga Vinyasa Yoga Primary Series with Claudia
Ashtanga Vinyasa Yoga is a traditional structured yoga practice done with a specific order of yoga postures. It is a very disciplined practice which through the breath, one is able to attain deep states of concentration and meditation. The Primary series is also known as Yoga Chikitsa - Yogic therapy due to its therapeutic nature.
Typically in our Ashtanga Americano class at Del Sol we shorten the series and leave out many postures for the sake of time. The offering in this class will allow those curious practitioners to be able to experience the whole series and get a full understanding of the entire Ashtanga primary series. This class is for those that have a familiarity with Ashtanga already.