Yoga Events and Workshops
Events and workshops support our practices in so many wonderful ways. Events help bring the community together and Workshops are meant to get into a deeper understanding to help enhance our practice. You will see several options of workshops and events every month to assist in developing your yoga...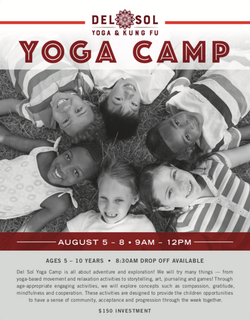 August 5, 2019 8:30am - August 9, 2019 12pm
Del Sol Yoga Camp is all about adventure and exploration! We will try many things — from yoga-based movement and relaxation activities to storytelling, art, journaling and games! Through age-appropriate engaging activities, we will explore concepts such as compassion, gratitude, mindfulness and cooperation. These activities are designed to provide the children opportunities
to have a sense of community, acceptance and progression...
more