Yoga Events and Workshops
Events and workshops support our practices in so many wonderful ways. Events help bring the community together and Workshops are meant to get into a deeper understanding to help enhance our practice. You will see several options of workshops and events every month to assist in developing your yoga...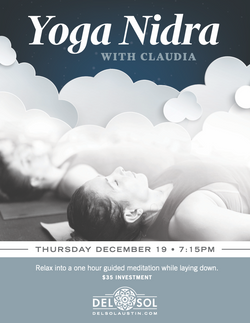 December 19, 2019 7:15pm
The yogis kept the secret of yoga nidra for thousands of years until it was revealed as one of the most powerful ways to make up for the lack of sleep and abundance of stress. One hour of yoga nidra equates to about four hours of sleep. The practice is known to relax our nervous system, revitalize our immune system, and leave us feeling deeply integrated, replenished, and restored. Come absorb yourself in a class where you lie down for a...
more