Yoga Events and Workshops
Events and workshops support our practices in so many wonderful ways. Events help bring the community together and Workshops are meant to get into a deeper understanding to help enhance our practice. You will see several options of workshops and events every month to assist in developing your yoga...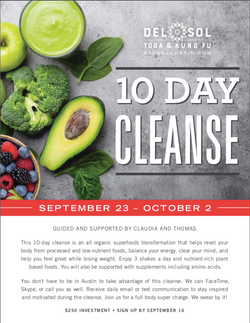 September 23, 2019 - October 2, 2019
Take a 10-day vacation from over-processed, genetically-modified food and cleanse your body of harmful chemicals and toxins. It's like taking a shower from the inside out. Flood your body with nutrient-dense, low calorie superfoods and break addictions to sugar, salt, carbs, and chemicals. This complete, easy-to-follow program can change the trajectory of your gut health.
...
more
October 12, 2019 1pm
Unlock the practices of Pranayam and Meditation, and learn how to use these ancient practices of controlling the bodies breath, and in so doing it's vital force or energy known as Prana or Qi
more