Yoga Events and Workshops
Events and workshops support our practices in so many wonderful ways. Events help bring the community together and Workshops are meant to get into a deeper understanding to help enhance our practice. You will see several options of workshops and events every month to assist in developing your yoga...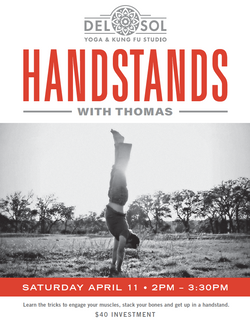 April 11, 2020 1:30pm
Turn it upside down with Thomas. Learn the tricks to be able to really engage your muscles and stacking of your bones to be able to get up in a handstand. Through specific drills and concentration techniques, you will gain confidence in kicking up against the wall or solo in the middle of your mat. All tools that help us grow awareness in our practice and face fears that might get in the way of realizing our greater...
more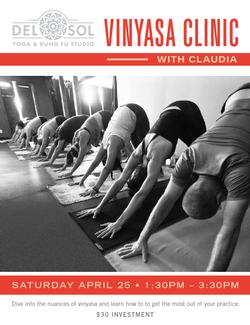 April 25, 2020 1:30pm
Join Claudia as she helps you problem solve and trouble shoot
some of the most common issues a person encounters in Sun A & Sun B.
Bring your questions and problems.
No experience necessary~ all levels welcome
more