Retreats
To retreat means to restore, to renew, to replenish. Join us as we journey to several locations every year that help bring you back into a sweet re-aligned perspective.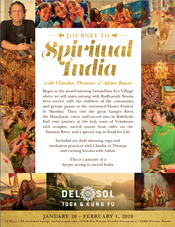 January 20, 2020 - February 1, 2020
This journey to India calls many of us into the depths of our hearts to reconnect and remind ourselves of our true nature. Join us on a spiritual journey to the holy land of India and its people that will blossom the flame of deep connection inside of you. It is a tour of sacred sites: the Govardhan Eco Village (north of Mumbai), the holy city of Vrindavan (the birth place of Radha and Krishna), and the city of yogis, Rishikesh at the foothills of the Himalayas. We visit temples, teachers, holy rivers, sacred caves, and magical moments....
more