Kung Fu Workshops & Graduations
Graduations occur every 3 months and are a time when we celebrate each others accomplishments. We come together as a Kung Fu family and receive our new belts indicating our growth through our Kung Fu journey. They are lots of fun, and offer great photo opportunities so stop by and see us!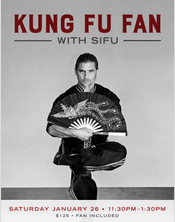 January 26, 2019 11:30am
Join Sifu Leverett and learn the deadly but graceful moves of the Wah Lum Kung Fu Fan Form. You will earn quick and agile movements, ranging from sweeps to rolls to butterfly kicks. Perfect for all ages $125 and the fan is included.
more