Kung Fu Events & Graduations
Graduations occur every 3 months and are a time when we celebrate each others accomplishments. We come together as a Kung Fu family and receive our new belts indicating our growth through our Kung Fu journey. They are lots of fun, and offer great photo opportunities so stop by and see us!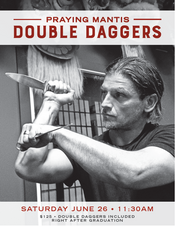 June 26, 2021 11:30am
Learn the Praying Mantis Double Daggers. This form teaches the student to extend their awareness into the weapon. It's a perfect form for beginners and advanced students alike. Double Daggers Included
more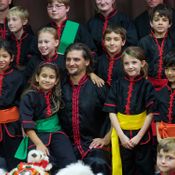 June 26, 2021 10am
The next Graduation and Belt Ceremony is Saturday, June 26, 2021 from 10 am - 11 pm.
Testing for Graduation will take place the preceding week. Please have the students intent to promote forms signed and ready. we're excited to see how they have grown in their skills.
more