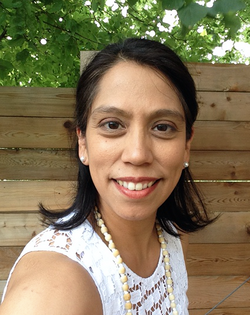 Magda Hernandez
Yoga Teacher, 500 Hour RYT, and Kids Yoga Teacher
Magda loves the yoga tradition of connecting the breath, the mind, and the body while on and off the mat. She was first introduced to yoga over 10 years ago. Her practice has helped her be calm, mindful, think clearly and be patient in even the most stressful situations. Magda is convinced that while yoga asana is experienced in the studio, as a ritual it will change our lives for the better in our relationships at work, at home and our community.
After completing the 200 hour yoga teacher training with Thomas and Claudia, Magda had additional yoga kids teacher training through Every Kids Yoga and The Little Yoga House programs. Magda decided to use this training along with her 17+ years experience with children to jump into the kids' yoga teacher role at Del Sol. Its an honor to take on this opportunity because she believes yoga is beneficial for the whole community. Kids will find Magda's class to be filled with fun yoga flows, games, partner poses, chanting and relaxation activities. Parents will observe that kids will participate in breathing techniques, affirmations, asanas that improve strength and flexibility, teamwork, meditation and mindfulness. Finally,
Magda feels that service belongs in kids' yoga classes, too because its our kids that will change the world one act of kindness at a time.